News


< Back
Governance : GRC Platforms : Mega :
MEGA CEO Named Trailblazer in Governance, Risk and Compliance

Recognized as a pioneer for innovation in developing integrated software solutions that help companies manage enterprise complexity and build efficient enterprise governance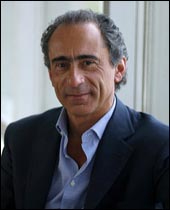 Lucio de Risi
President and CEO
Mega


The National Law Journal has named Lucio de Risi, CEO of MEGA as one of 50 worldwide leaders in governance, risk and compliance.

This is the first time The Journal has recognized individuals in the GRC arena. The recipients were selected from hundreds of risk and compliance specialists, technologists, legal professionals and others involved in GRC programs.

"These are people who have truly 'moved the needle' in facilitating change in GRC, whether it be technological developments, operational ef­ficiencies, marketing and business development breakthroughs, or research accomplishments," noted Scott Pierce, publisher of The National Law Journal and Legal Times. "Governance, Risk and Compliance Trailblazers & Pioneers catalogs the extraordinary accomplishments of these ground breaking thinkers."

de Risi was selected for his innovation in creating GRC software that integrated with solutions already used by organizations to manage enterprise complexity and improve business results, thus introducing risk and compliance management activities into everyday business operations.

"This connection makes it possible for organizations to eliminate the independent silos of information and activity that are costly and prevent proper and efficient risk management. We saw early in the maturation of GRC programs that these isolated repositories had to be eliminated. It is the only way that executives can deal with today's digital disruption that increases enterprise complexity and compounds risks," explained de Risi. "To be truly efficient, companies needed a way to unite the management of previously separate areas: business processes, IT, and risk and compliance."

de Risi launched MEGA International in 1991. Today, the company works with organizations around the world, including many Fortune 500 companies, on business transformation and enterprise governance, using innovative advanced technology solutions offered on the company's unique HOPEX platform. Customers include Aetna, The College Board, Nissan, Procter & Gamble, Starwood Hotels, Swiss Federal Railways, and Walgreens.

The company has been honored numerous times by organizations for its innovation and industry leadership and is often cited by industry analysts as a groundbreaker.

"MEGA's unique vision is to help customers achieve operational excellence with the combined capabilities of its enterprise architecture and GRC technologies. MEGA has showcased its superb risk and control management, GRC management and audit management capabilities," according to The Forrester Wave™: Governance, Risk, and Compliance Platforms, Q1 2014.

GRC 20/20 Research, founded by noted GRC expert Michael Rasmussen, recognized MEGA as the winner of its 2013 GRC Technology Innovator Award.

Gartner Inc. has named MEGA as a leader in its EA Magic Quadrant reports for five consecutive years, including the most recent, the Magic Quadrant for Enterprise Architecture Tools (October 2013).

Additional citations include Gartner's Magic Quadrant for Governance, Risk and Compliance Platforms (September 2013), The Forrester Wave: EA Management Suites, Q2 2013 and Continuity Insurance & Risk Magazine's Risk Assessment Software Report.

The National Law Journal is part of ALM, a global leader in specialized business news and information. ALM's award-winning media properties include more than 30 digital products, 20 publications and countless new multimedia outlets. These include Law.com, The American Lawyer, Corporate Counsel, The National Law Journal and The New York Law Journal. The company has 16 offices worldwide and its brands have been serving their markets since 1843.