People in The News


< Back
Governance : Risk : Asset Management :
Deloitte Adds Fay to its GR&RS Practice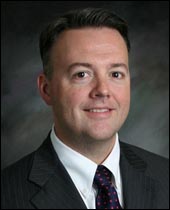 Mike Fay
Principal
Deloitte


Deloitte & Touche LLP continues to strengthen its regulatory and risk services capabilities with the addition
of Mike Fay to its governance, regulatory & risk strategies (GR&RS) practice. Fay will be part of Deloitte's financial services industry practice, providing risk and compliance services to Deloitte's asset management and banking and securities clients.

Fay, a principal in Deloitte's Boston office, previously served as chief compliance officer for a leading financial services institution. He was responsible for the organization's global compliance strategy as well as leading a worldwide team of compliance professionals. Fay is credited with leading various initiatives to promote the organization's compliance
position through the enhancement of risk assessment methodologies and operational practices.

"With all of the compliance and regulatory challenges facing companies in today's market, it's essential to build your compliance program with the help of experienced advisers," said Fay, who will serve in a leadership role in asset management for the GR&RS practice. "I look forward to working with the Deloitte team to continue to implement best in class compliance strategies."

Fay is returning to Deloitte, where previously served 13 years including a leadership role with Deloitte's asset management practice. Fay is a certified bank auditor and certified risk professional.

"Mike's wealth of experience in spearheading risk and compliance-based programs is a significant asset to our practice and to our clients," said Kevin McGovern, national managing partner, governance, regulatory & risk strategies, Deloitte & Touche LLP.

Deloitte's governance, regulatory & risk strategies practice professionals provide consultative services to assist organizations and their boards in their efforts to create and protect value and enhance effective management of their strategic, regulatory, financial, operational, and compliance risks on a sustained basis. Deloitte helps develop sustainable governance, compliance, and risk management programs by helping organizations identify, remediate, monitor, exploit, and manage enterprise risks in addition to coordinating the utilization of people, process, and technology to improve effectiveness and help manage costs.