News


< Back
Governance : Department of the Treasury : :
Financial Stability Oversight Council Releases Annual Report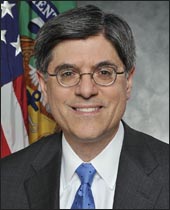 Jacob J. Lew
Treasury Secretary
US Department of the Treasury


The Financial Stability Oversight Council (Council) unanimously approved its 2013 annual report, which was developed collaboratively by the members of the Council and their agencies and staff.
Under the Dodd-Frank Act, the Council must report annually to Congress on a range of issues, including the activities of the Council, significant financial market and regulatory developments, and potential emerging threats to the financial stability of the United States. The report must also make recommendations to promote market discipline, maintain investor confidence, and enhance the integrity, efficiency, competitiveness, and stability of U.S. financial markets.
"Our work on financial reform is absolutely essential, as we work to modernize our regulatory framework and make our financial system more stable" said Treasury Secretary Jacob J. Lew. "Members of this Council continue to make a great deal of progress in building a more resilient financial system, and the Council's annual report informs the public about actions we have taken over the past year, developments in the financial system during that time, and the challenges ahead."
In its third annual report, the Council's findings and recommendations are organized around seven themes:
The vulnerability to runs in wholesale funding markets that can lead to destabilizing fire sales;
The housing finance system that continues to rely heavily on government and agency guarantees, while private mortgage activity remains muted;
Operational risks that can cause major disruptions to the financial system;
The reliance on reference interest rates, which recent investigations have demonstrated were manipulated, particularly in the case of the London Interbank Offered Rate (LIBOR);
The need for financial institutions and market participants to be resilient to interest rate risk;
Long-term fiscal imbalances, as the absence of bipartisan agreement on U.S. fiscal adjustment has raised questions about whether long-term fiscal problems may be resolved smoothly; and
The United States' sensitivity to possible adverse developments in foreign economies.
In the report, the Council's recommendations address the following topics:
Reforms to address structural vulnerabilities
Reforms of wholesale funding markets (money market funds, tri-party repo)
Housing finance reform
Reforms relating to reference rates
Heightened risk management and supervisory attention
Operational risk (cybersecurity, infrastructure)
Risk of prolonged period of low interest rates
Capital, liquidity, resolution
Progress on financial reform
At Thursday's meeting, the Council also approved the minutes from its April 4 meeting. The report, as approved by the Council, and the meeting minutes will be available at www.fsoc.gov.
In attendance at the Council meeting were:
Jacob J. Lew, Treasury Secretary (Chairperson of the Council)
Ben Bernanke, Chairman of the Board of Governors of the Federal Reserve System
Richard Cordray, Director of the Consumer Financial Protection Bureau
Thomas Curry, Comptroller of the Currency
Edward DeMarco, Acting Director of the Federal Housing Finance Agency
Gary Gensler, Chairman of the Commodity Futures Trading Commission
Martin Gruenberg, Chairman of the Federal Deposit Insurance Corporation
Debbie Matz, Chairman of the National Credit Union Administration
Mary Jo White, Chair of the U.S. Securities and Exchange Commission
S. Roy Woodall, Jr., Independent Member with Insurance Expertise
Richard Berner, Director of the Office of Financial Research (non-voting member)
John Ducrest, Commissioner, Louisiana Office of Financial Institutions (non-voting member)
John Huff, Director, Missouri Department of Insurance, Financial Institutions and Professional Registration (non-voting member)
David Massey, Deputy Securities Administrator, North Carolina Department of the Secretary of State, Securities Division (non-voting member)
Michael T. McRaith, Director of the Federal Insurance Office (non-voting member)