News


< Back
Governance : Business Leadership : :
Seyfarth Adds Corporate Partner Michael Clark in Los Angeles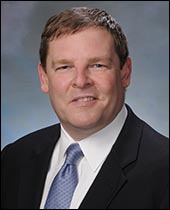 Michael Clark
Partner, Los Angeles
Seyfarth Shaw


Seyfarth Shaw LLP announced the arrival of partner Michael T. Clark to the firm's Corporate department in Los Angeles. Clark joins Seyfarth from Norton Rose Fulbright, where he was a partner in the Corporation, Banking and Business department.

Clark has broad experience in mergers and acquisitions, corporate, and securities law matters both domestically and internationally. He represents public and private companies with an emphasis on those in the aerospace, energy, security and technology industries.

"Michael is an accomplished dealmaker who will enhance and strengthen our corporate practice on the West Coast," said Paul Mattingly, chair of Seyfarth's Corporate department. "His mix of domestic and international experience also aligns well with the firm's growing footprint around the globe."

"Michael brings further energy to our corporate practice in Los Angeles and will be a key driver in the expansion of our M&A practice," added Richard Mendelson, Seyfarth's Los Angeles office co-managing partner. "Michael is a trusted counselor who enhances our platform with strong experience in several growth industries where we see significant opportunity," explained Ray Kepner, co-managing partner of Seyfarth's Los Angeles office.

Clark received his B.A. from The Master's College and earned his J.D. from George Mason University School of Law, where he was the Editor-in-Chief of The Journal of International Legal Studies.

About Seyfarth Shaw LLP
Seyfarth Shaw has more than 800 attorneys and provides a broad range of legal services in the areas of labor and employment, employee benefits, litigation, corporate and real estate. With offices in Atlanta, Boston, Chicago, Houston, London, Los Angeles, Melbourne, New York, Sacramento, San Francisco, Shanghai, Sydney and Washington, D.C., Seyfarth's clients include over 300 of the Fortune 500 companies and reflect virtually every industry and segment of the economy. A recognized leader in delivering value and innovation for legal services, Seyfarth's acclaimed SeyfarthLean client service model has earned numerous accolades from a variety of highly respected third parties, including industry associations, consulting firms and media.